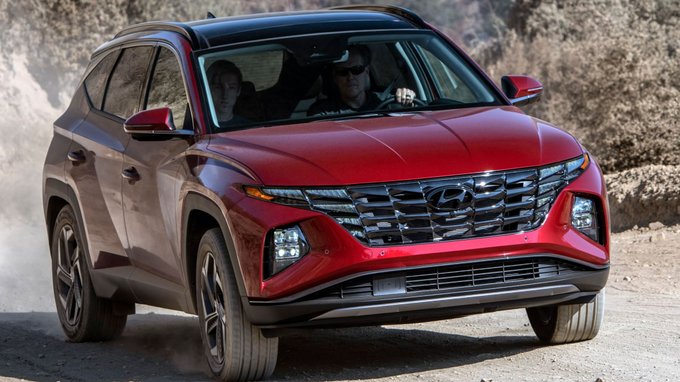 2022 Hyundai Tucson Lease Has Same Price As A Santa Fe
Hyundai's newest crossover SUV, the 2022 Tucson, boasts an impressive array of tech and a clean-sheet redesign. However, our analysis finds that potential shoppers may be able to upgrade to a new Santa Fe for the exact same lease price.
According to a bulletin sent to dealers yesterday, the all-new Tucson already features up to $2,500 in lease incentives depending on trim and lease term. The figure in question is based on a 39-month lease for the entry-level Tucson SE.
Hyundai's first lease on the new Tucson is for the mid-tier SEL model and starts at $199 for 36 months with $3,599 due at signing here in Southern California. That's based on an MSRP of $27,685, 10k miles per year, and has an effective cost of $299/month.
While we've seen $199 lease deals before, there may be a compelling reason to upgrade. Based on our list of around 300 lease deals in March, the updated 2021 Santa Fe SE actually has the exact same lease price despite having an MSRP of $28,035.
Small differences help make the Santa Fe a better deal. For example, Hyundai is offering $2,000 in lease cash ($500 more than the Tucson). The Tucson does benefit from a better rate (1.7% vs. 2.8%), but the Santa Fe has a higher residual value (62% vs. 61%).
We think the all-new Tucson is a compelling choice in a crowded field. That said, upgrading could be a smart move for those who could use the extra space. If you're looking to pay even less, there may be an even better deal.
At the moment, outgoing 2021 Tucsons feature a Sign & Drive lease starting at just $239/month with $0 due at signing. At that price, it's approximately $4 more than a Hyundai Accent SE despite a roughly $7,000 difference in MSRP.
Current Hyundai offers are set to end on March 30, 2021.
Explore This Month's Best Lease Deals »