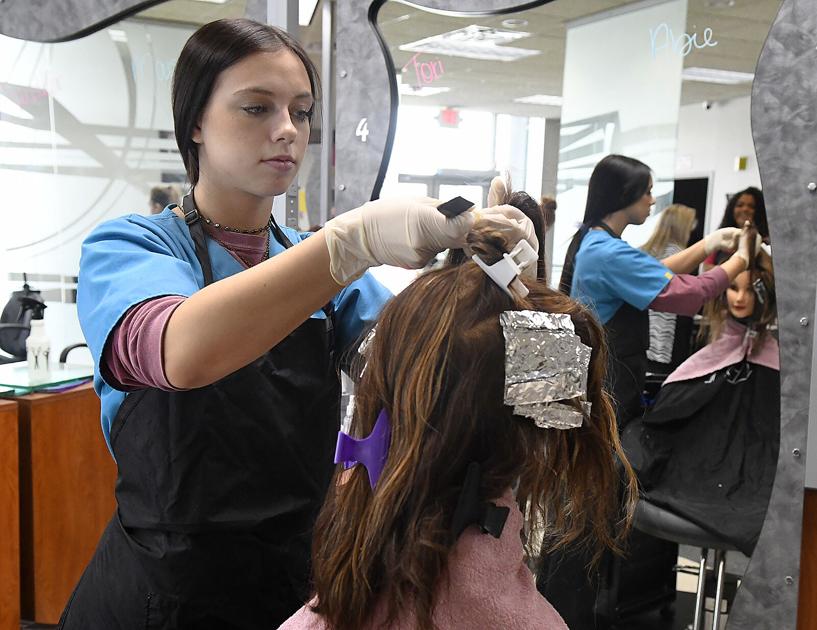 Autry Technology Center follows CareerTech mission to produce, prepare workforce in Oklahoma | News
ENID, Okla. — Since 1967, Autry Technology Center has served the Enid community and Northwest Oklahoma with one goal — providing a productive and prepared workforce for employers in Oklahoma.
As one of 29 CareerTech schools across Oklahoma, Autry Tech offers several full-time career programs, numerous short-term continuing education courses and personalized training opportunities through corporate partnerships. The school also serves as a regional host site for the Oklahoma School of Science and Mathematics.
Planning a career
Full-time career programs run on a traditional school calendar, August through May, at Autry Technology Center. Autry Tech offers 25-plus, full-time programs and enrolls more than 700 high school and adult students each year.
Full-time programs include Air Conditioning and Refrigeration Technology, Automotive Technology, Business Management and Entrepreneurship, Clinical Medical Assisting, Collision Repair Technology, Computer-Aided Drafting and Design, Construction Technology, Cosmetology, Culinary Arts, Dental Assisting, Early Care and Hospitality, Graphic Arts, Health Careers, Industrial and Mechanical Technology, Information Technology, Power Products Technology, Robotics and Electronic Automation and Welding Technology.
Autry also offers five adult-only advanced medical programs in areas such as MRI, practical nursing, radiography, respiratory care and surgical technology.
Three new, full-time programs will kick off in August. Culinary Arts will be returning to the Autry Tech campus after renovation of the state-of-the-art kitchen and cafeteria. CNC Machining Technology and Diesel Technology are part of the expansion at the east end of Autry Tech's main campus.
"One of our goals in full-time programs is to ensure every student in Garfield County has a plan following high school graduation," said Mandy Mayberry, director of marketing, communications and recruiting. "We work hard to ensure our full-time students gain the hands-on training and skills they need to be successful in the workforce."
Enrollment for full-time programs began in January and continues through August. In-district high school juniors and seniors can attend a full-time program tuition-free. The Autry Scholarship is available to recent high school graduates who either live in the Autry district or did so during their senior year in high school and who meet enrollment guidelines. Students may attend during any or all of the three years immediately following high school graduation.
Career, personal growth
Short-term, continuing-education courses are geared toward individuals seeking career or personal growth and employers investing in the advancement of their workforce.
Autry Tech offers a variety of short-term courses with flexible class times. Areas of interest include: agriculture, food and natural resources, architecture and construction, arts and communications, business management and leadership, health science, hospitality and human services, information technology, manufacturing and trades, retail and transportation.
Autry Tech also partners with more than 500 local businesses each year through customized training opportunities with the corporate training team.
Customized training courses are designed to meet specific needs of industry partners, allowing the employer to keep up in today's fast-changing and competitive work environment, according to the CareerTech school.
Plans of expansion
Autry Tech is planning to launch a new fabrication lab as part of the expansion of the east end of the main campus.
The maker space focuses on prototyping and new technology in the manufacturing and mixed reality spaces to complement existing business and entrepreneurial services. The facility will be open to the public in addition to educational use by full-time programs and short-term courses provided through corporate training.
The 2,600-square-foot lab will be adjacent to a new machining classroom, which is meeting a direct workforce gap indicated by area employers.
Autry Tech's facility will feature opportunities to learn coding, electronics, machining and additive manufacturing through use of 3-D printers. Users will have access to a woodshop; metal shop; computer labs equipped with CAD and CAM; studios with AV, AR and VR capabilities; as well as space for ideation, planning and assembly.
This offering is in support of small-batch manufacturing, promotion of trade enthusiasm and requests for more industrial arts opportunities.
"The driving force of the Oklahoma CareerTech system is to fill the workforce with qualified workers and set our future generations up for success," said Brady McCullough, Autry Tech's superintendent/CEO. "Here at Autry Tech, we continue our vision of being the workforce capital by providing state-of-the-art technology, expert resources and guaranteed satisfaction."
Last year, Autry Tech enrolled 393 full-time high school students and 295 full-time adult students.
All Autry Technology Center students participate in Career and Technical Student Organizations (CTSO), with the CareerTech boasting 68 National Technical Honor Society recipients.
Of Autry's full-time graduates, 93% have joined the military, become employed or continued their education.
For information about Autry Technology Center, go to autrytech.edu or call (580) 242-2750.