elite and adriano design perfect fuoripista bike for realistic indoors cycling
with over thirty years of cutting-edge products for the cycling world, elite collaborates for the first time with davide and gabriele adriano of adriano design to realize the fuoripista bike. the fitness bicycle – its name translating to off-road in english – appears as well as performs unlike any previous indoor workout equipment. it merges the finest of materials together with an all-italian artisanal knowledge and advanced health technologies. the resulting design accentuates an innovative yet elegant nature.

all images courtesy of fuoripista by elite
adriano design first presented fuoripista at salone del mobile 2017  as an iconic, unpublished piece to pay tribute to 20 years of salonesatellite. the bicycle was showcased as a conceptual, aesthetic idea, before elite began the manufacturing process. the end product makes history as the first fitness bike to operate with a battery, an electronic pad brake, a glass flywheel, and a virtual analog gearbox.
'it was a continuous developing process and in the end we were able to obtain an ideal and customized product without sacrificing its looks, while integrating many adjustments in its wood structure,' tells alessandro secondin, elite's mechanical engineer, as the brand moved from ideation to manufacturing.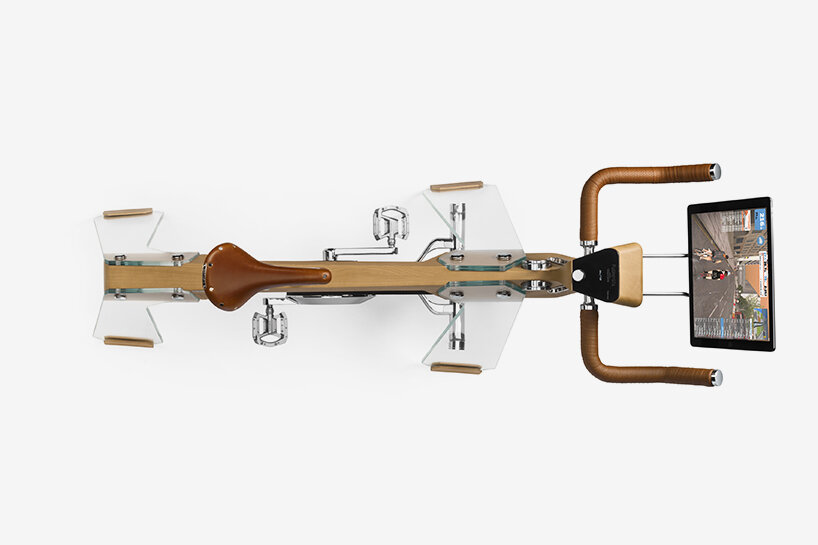 with its architectural stance, fuoripista evokes a nonconventional looking fitness experience. the leaned-back frame, the four legs, and upright angled handlebars resemble a sculptural, animalistic form that makes it stand out from other stationary bikes. the form goes beyond aesthetics, though, as each angle and shape ensure an ergonomic workout. optimal customization can be achieved with an adjustable and replaceable saddle, handlebar adjustment sleeves, and replaceable pedals. this is extremely important as it allows every body type to train with the proper posture.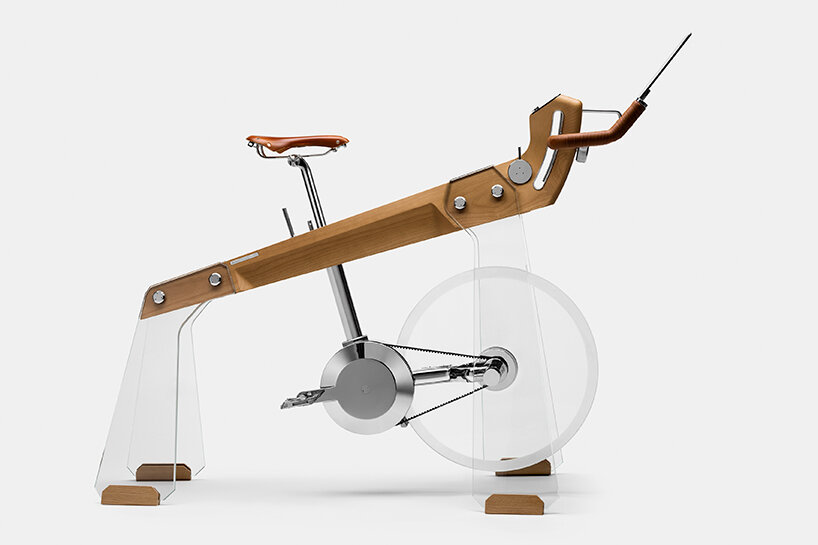 the bicycle is fashioned from sustainable and noble materials. the main lintel is made of closed-pore ash wood, treated with multi-layered coating to make it waterproof. each product is as unique as the wood's varying grains and tones. all the functional elements like the levers, seat posts, knobs, pedals and other structural details, are in aluminum and stainless steel whilst the saddle and handlebars are upholstered in leather. a 12mm multi-layered tempered glass is used for the legs as well as the biggest indoor flywheel in the cycling world. these choices of materials allow clients to place the bike in any kind of desirable environment, from domestic to professional and luxury contexts.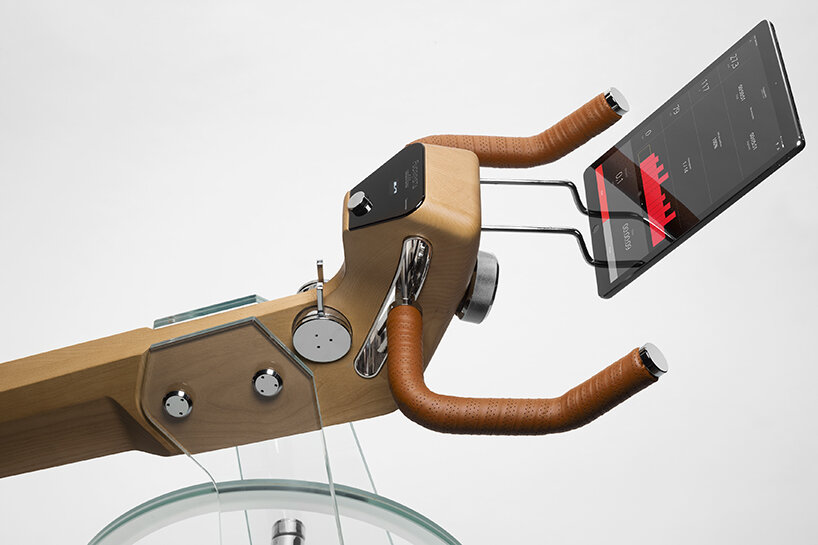 the use of advanced technology lets the biker personalize their session. at the front, two levers permit a 16-level range of resistance adjustment, along with a virtual gear shifting option for both front and rear management, as one would do when on the road.  the tablet support lets the user wirelessly connect their bicycle to any app or software, making the workout totally interactive. this enables group or individual e-training, rides through existing and virtual courses, and GPS tracking to be adjusted. meanwhile, the OLED display demonstrates session data, from power levels to brake calibration.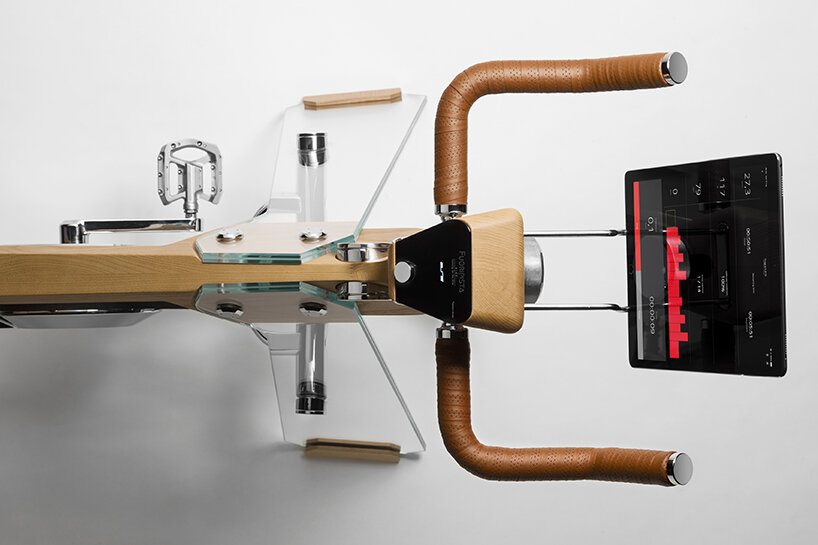 elite aims to offer the user a hyper realistic indoors cycling experience. the electronic brake pad, along with the glass flywheel and gear shifter, let the biker simulate even the most minor changes, from the gradient percentage to the pedaling movement. for wireless workouts, the lithium rechargeable battery can last up to 10 hours. in combination with the belt transmission in fiberglass reinforced rubber, an extremely quiet ride can be achieved, letting the cyclist train anytime, anywhere.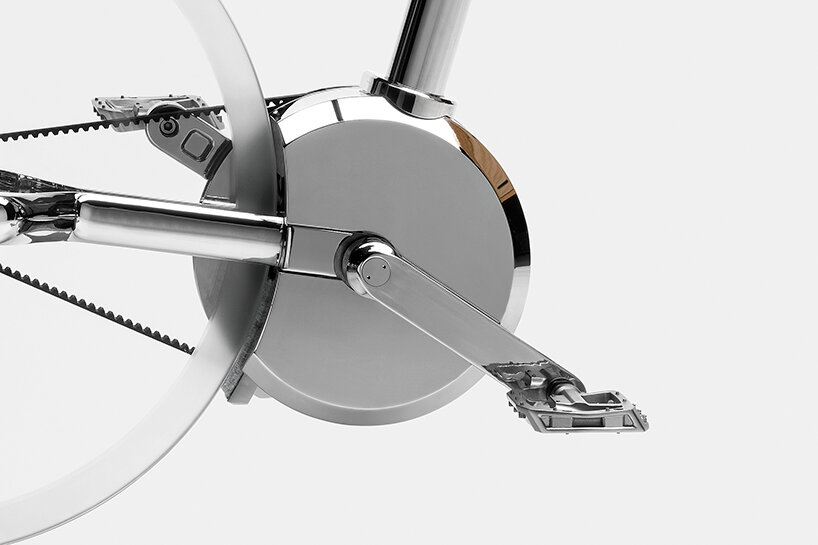 from professional athletes to passionate amateur cyclists, the bicycle allows all kinds of fitness sessions. elite holds in-house tests with professional athletes, and certified technical accuracy to ensure unparalleled levels of training realism. whether indoors or sheltered outdoors, for the lovers of design and cycling, the bike becomes a desired furnishing asset that can easily be exposed in a living-room rather than typically hidden in a basement.