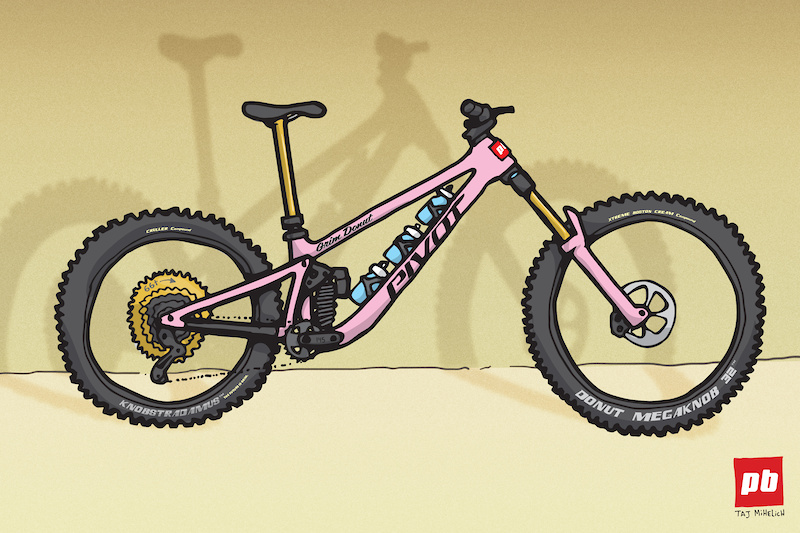 Pivot Cycles to Produce the Grim Donut V2
SQUAMISH, BC / PHOENIX, AZ
Pivot Cycles and Pinkbike announce 2021 partnership.
The award winning manufacturer has committed to producing and racing the Grim Donut.
Last year, the mountain bike world was turned on its head when Pinkbike produced a "bike from the future" called the Grim Donut [Part 1 & Part 2]. A tongue-in-cheek lampooning of the industry's incremental advancements, the Grim Donut used geometry from the past 10 years of bike development to extrapolate what the future could look like.
A joke taken too far, everyone was surprised that the bike was actually rideable, let alone fast. But after being piloted by Yoann Barelli to some very fast test laps, it turns out that there might be something to that assumption of linear progress.
We're excited to announce that Pivot will be producing V2 of the Grim Donut. Details on the bike are still scarce, but we can release the following information:
• For the first time in the history of the bicycle industry, a new bike will be steeper than the one that preceded it. We're calling it Steeper Head Angle Technology™. The first Donut was supposed to have a 57° headtube angle, but because Pinkbike is bad at math it ended up just shy of 56°. After some testing with anglesets, the new bike is set to have a 58° headtube angle. So conservative.
• It will be handcrafted with a premium blend of culinary grade, ultra-exclusive Al13™ alloy, with tube shapes perfectly optimized for aero tucks. Using advanced manufacturing processes ensures delivery of an imperceptible 0.69% increase in stiffness-to-weight and ride quality.
• The bike is no longer limited by needing to weld two toptubes together. That means that, for the first time ever, the Grim Donut will be produced as a size Medium (525mm reach).
• Designed around pre-de-tensioned wheels so you can finally turn left just as well as right. Vertically rigid yet laterally compliant.
• We don't know what suspension design we're going to use yet, but rest assured it will keep all pedaling forces, brake forces, rough terrain impacts, gear ratios, and your parents entirely separate from each other. There will be no compromises.
• All of the new bike's technologies will be upgraded from Three Letter Acronyms (TLA™) to Four Letter Acronyms.
Tom Bradshaw putting in some test laps on the original Donut. Are reverse offset forks the future?
Pivot has also committed to bringing the Grim Donut V2's leapfrog approach to the race circuit, using their EWS race team to test and validate the bike's blistering speed. Ed Masters, Matt Walker, Bernard Kerr, Morgane Charre, and Emilie Siegenthaler will all take the start-line on the new bike throughout the year.
There will be a very limited number of production Grim Donut bikes made available for the public to purchase. Stay tuned for more information on that launch later in 2021.