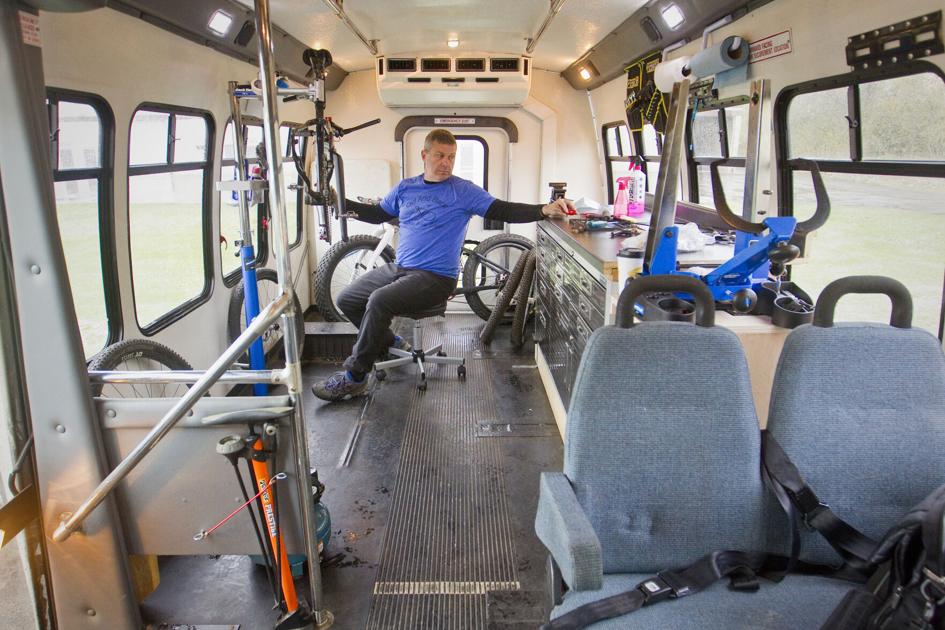 Rolling Repairs: Out and Back Bike Shop launches | Business
TRAVERSE CITY — People get excited when David Hagan's mini-bus pulls up. Even though his 1999 Ford Econoline doesn't take them anywhere.
What the white bus with the blue lettering does is allow customers to take themselves places.
Hagan launched a mobile business, Out and Back Bike Shop, earlier this month. The mini-bus is his traveling workshop. Mobile repair accounts for about 85 percent of his activity to date.
"That's my product," said Hagan, who just turned 53 years old. "I'm really focused on the mobile part of it. People just love it when I show up. After I tune up the bike or get it up and going, people just have a big smile on their face. Everybody loves the bus."
One of those who loved to see the bus pull up in front of her house was Alisha Deponio. Hagan made a mid-April house call to the Eagle's View subdivision above Copper Ridge to tune-up two electric bikes for Alisha and Dino Deponio before the riding season.
Alisha Deponio estimates her electric bike weighs 50 pounds, while her husband's weighs 60. She said the electric power is necessary to climb the hill after rides.
"They are so heavy to transport; we don't even have a bike rack for it," she said. "So it was super convenient to have him come to our house and to do it in his cool little bus."
Alisha Deponio said she learned of the mobile bike service via Facebook.
"That's perfect," she said. "That's what we need."
While Deponio worked around the house, Hagan spent about an hour and a half making sure the two bikes were ready to hit the road this year. A Venmo transaction later, Out and Back Bike Shop had a happy customer who has recommended the business to others.
"I was cleaning the house and he texted me," Deponio recalled. "I walked out to the garage and they were done. He also accepts electronic payment, so it's just another convenience of our times."
"It's convenience and keeping them riding on their bike and enjoying their lifestyle," Hagan said. "People just love seeing the bus pull up."
While Out and Back Bike Shop is a new venture, Hagan's passion for bicycles goes further back.
"This all started because I raced BMX bikes as a kid — and still do," he said. "I race and coach out there. It keeps me in shape for when I go to nationals and state races."
Hagan later worked for Ralston Cycle in 1993, before helping a friend open a bicycle shop in Maine. He worked "on and off" since 1995 for Brick Wheels, often spending the spring and summer repairing bicycles, then working in restaurants in the winter.
Sometime during the 1990s, Hagan read an article about a mobile bike repair business in Colorado that worked out of a Volkswagen — and the seed was planted.
"I always dreamed of this," Hagan said. "I read an article about it and kind of romanticized about it."
But Hagan didn't put the idea into action right away. A friend, Bob Hammond, launched Common Bond Mobile Bike Shop in Grand Rapids. Hammond provided the final push, telling Hagan, "Do it. Now's the time."
The next brick fell into place when Hagan spotted something while going past Mt. Holiday.
"Then I found that bus," he said. "That was a sign. I kept riding by it and one day I rode up and looked in. There was a 'For Sale' sign that had fallen off. It wasn't in the window."
Originally used as transportation for a downstate assisted living facility, Hagan purchased the bus in the fall. He since has converted the V-10 powered bus into a mobile shop by gutting it and adding cabinets.
"My mechanic said it'll pass anything but a gas station," Hagan joked.
The business had a soft opening in March, then kicked into high gear earlier this month — after a personal bout with COVID-19.
Hagan said working with customers on a face-to-face basis is rewarding.
"That's really satisfying and makes it fun," he said. "In a bike shop, you might not see the person. But this is a one-on-one experience in that moment. Hopefully I make them happy and then go on to the next person."
Hagan has an office inside Internal Fitness Personal Training Center, 887 Lynch Drive, where the bus sits when not mobilized. He said friends and gym members will drop off bikes for repair, but most of his business involves Hagan coming to customers.
"I like it because my office view changes every couple of hours," Hagan said. "I could be out on the peninsula and two hours later I'll be over on Webster Street."
Sometimes the Out and Back Bike customers aren't there at all. Hagan once repaired a bicycle in the employee lot at Munson Medical Center. Other times customers will leave a bike while they are at work.
"I have some where people give me their garage code or they locked it up outside and provided me with the code for the lock," Hagan said. "I unlock it, do the repair or tune-up and then lock it back up and text them."
Out and Back Bikes offers a series of four packages with different price points depending on the level of tune-up: Make It Roll, Basic, Advanced and Overhaul. But Hagan said he does a lot of "a la carte repairs" and the variety drives him.
"It all varies," Hagan said. "One day I could be working on a $7,000 downhill bike, the next day it's an Electric Hawaii.
"I'm just glad to get bikes working so people can get out and enjoy the area."
As other bicycle shop have discovered after the COVID-19 pandemic, finding parts can be difficult. Hagan said the 26-inch-wheel mountain bikes popular in the 1990s and early 2000s are hard to find.
"You can't get parts for those," he said. "They're gone."
Hagan said he will often spend an hour every morning, and sometimes another in the evening, online looking for parts. He said sources like eBay and Amazon have to fill in the gaps.
"It's just pulling out the parts list and hopefully they have 26-inch tires or chains today," Hagan said. "Parts have been a real struggle, just sourcing them. There's also nothing really standard in the bike industry. Just like cars, there are millions of parts and you have to know compatibility."
Keeping up with an ever-evolving industry also can be a challenge, especially with the increased popularity of electric bikes. But that's also what keeps Out and Back Bikes moving.
"The technology is also changing," Hagan said. "The technology keeps going up and up and our knowledge has to stay with it."
Out and Back Bike Shop is open Monday through Saturday from 9 a.m. to 5 p.m. More information is available at http://outandbackbikes.com/ or (231) 714-4691.