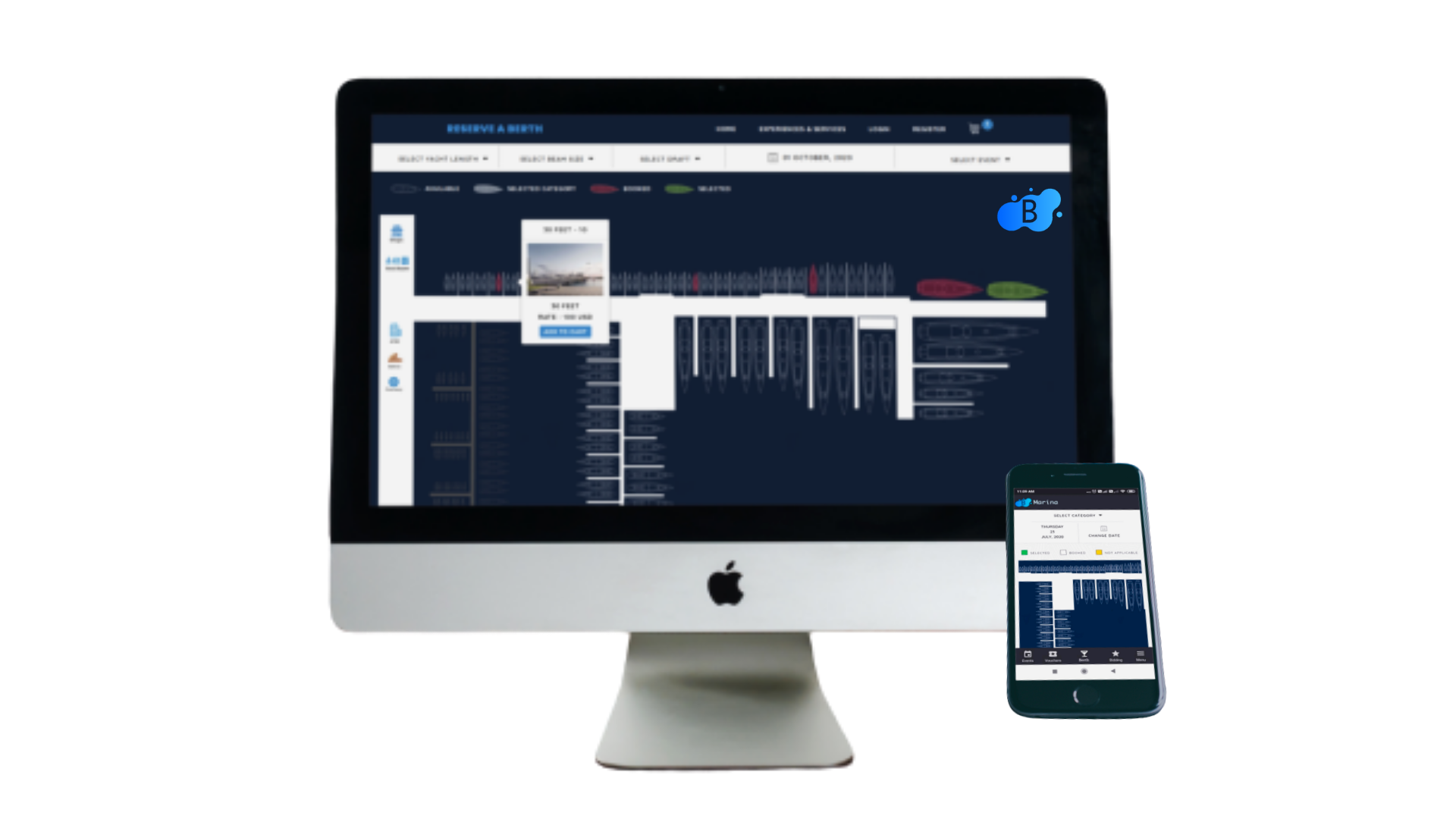 Smart Marinas: How Going Mobile is Shaping and Connecting the Industry's Tech-Enhanced Future
Editor's Note: This is the second installment in a Water Marks series introduced in the January/February 2021 issue of Marina Dock Age titled Smart Marinas: Scanning What Lies on the Horizon for Higher-Tech Recreational Boating.
As E-commerce has continued to grow internationally, so too has mobile- or M-Commerce: the percentage of online commercial transactions conducted using mobile devices such as phones and tablets. Accelerated by the impacts of COVID-19, U.S. E-commerce grew 44% in 2020 to over $861 billion. Mobile sales now amount to over 50% of that online-generated revenue, with growth that shows no signs of slowing down.
While much attention has been paid to the impact E-commerce is having on traditional brick-and-mortar retail sales, the implications for the marina industry are equally significant. More and more, the first visit to a marina is a virtual one, as boaters weigh their options and anchors online. With the continued growth of mobile apps for booking slip reservations and marina services, these virtual interactions and transactions are also increasingly mobile.
While M-commerce is clearly transforming how marinas attract and communicate with their customers, it is also more subtly becoming the leading edge of a much larger technological shift for the industry. This second in a series on the emergence of Smart Marinas examines how mobile technology is driving the development of high-tech systems for marina management and administration. These emerging systems are creating the potential to monitor, guide and integrate every facet of marina operations, from boat navigation and storage to security, infrastructure performance, and new revenue generation.
With so many different software developers and companies dedicated to this growing E- and M-commerce market, there is no way to provide a comprehensive overview in a short article. But to understand where the bigger trends appear to be headed and converging, it is helpful to examine how both more established companies and newer entries to the field are looking to innovate with desktop and mobile technology for marinas.
Snag-A-Slip and Dockwa both launched their online slip reservation and marina promotion services around 2015, providing an Airbnb-like booking option for the marina sector. They have subsequently grown their start-up position to become market leaders and have been making significant expansion moves the past two years.
Snag-A-Slip
Based in Annapolis, Maryland, Snag-A-Slip is part of Baltimore-based Oasis Group Holdings, which operates Oasis Marinas, a marina management firm, and Marinalife magazine. Since launching in 2015, Snag-A-Slip's online network has expanded to over 700 partner marinas primarily in the U.S. and North American market, ranging from Canada to the Caribbean and Mexico. In 2019, Snag-A-Slip acquired Slip Sure, the largest app for instant and same-day boater reservations, expanding their core market of long-term and short-term bookings. They also opened their platform to private docks that same year.
In addition to offering a range of marina-related products and services, Oasis Group is utilizing a partnership strategy with other marina-tech innovators. Their partnership with Siren Marine – whose Connected Boat® technology is at the leading edge of what is now being referred to as the global Marine Environment Monitoring System market – was featured in a previous Marina Dock Age article.
Siren Marine is developing the kinds of online/mobile navigational position and tracking systems, alarm and security monitoring systems, and control systems that will play a critical role in the development of Smart Marinas. Oasis Marinas clearly views its partnership with Siren and others as an essential cooperative effort to help transform how marinas operate and do business.
Snag-A-Slip's website also highlights high-tech partners, including the cloud-based marina management/accounting software companies MARINAGO and Molo. MARINAGO recently integrated mobile "instant pay" electronic invoicing into their receivables flow, making it much easier for marinas to start offering customers the option to pay directly from a mobile device. As instant pay/real-time payment continues its rapid growth internationally, marina owners and operators will be looking for efficient and seamless ways to incorporate this payment method into their overall mobile business operations.
Snag-A-Slip's story exemplifies a larger trend in which the online slip-booking service/app is evolving not as a stand-alone marketing component but as an increasingly integrated package of Smart product lines and options that all interface with mobile devices. In addition to tech companies, we are seeing marina management companies, boat manufacturers, and others becoming key players in this rapidly diversifying and digitally interconnected marketplace.
Dockwa
Dockwa and Marinas.com are subsidiaries of The Wanderlust Group (TWG), which has become a technology leader in both the marine and outdoor travel industries. Founded in 2014 with offices in Newport, RI and Cambridge, MA, their mission is to use technology to make outdoor experiences more accessible, enjoyable, and affordable. The use of their platforms has expanded to more than 30 countries, 15,000 marinas, and 250,000 boaters worldwide.
The past year has been a highly active one for TWG, which just announced the hiring of a new chief marketing officer in February 2021 following the raising of $14.2 million in a Series B funding effort last year. A key part of their investment funding strategy is to expand their outdoor travel booking options onto land with Campouts.com.
Last year's COVID-fueled growth in boating and outdoor recreation showed that the outdoor travel industry is still largely dependent on phone calls and pen-and-paper reservations. This made 2020 more difficult for many marina owners as well as for a new generation of outdoor travelers used to online booking systems.
According to Mike Melillo, CEO and co-founder of TWG:
"Prior to 2020, boating and outdoor travel were already growing. Now, we're seeing this growth speed up as more people look to get outside and take advantage of macro trends created by the pandemic . . . Marinas are the lifeblood of many waterfront communities . . . Our technology seeks to level the playing field and provide cost-effective ways for all marinas to attract guests and manage their reservations. As our network of marinas and boaters grows, the value we deliver grows as well."
TWG's primary focus in smart marina technology is to provide the outdoor recreation sector with a scalable and affordable online booking solution to manage its market potential. Incorporating landside reservations for camping accommodations reflects another key aspect of that targeted growth strategy. Even relatively low-tech marinas in more remote, natural destinations still need a high-tech mobile portal to connect with customers and stay competitive in a growing market. For TWG, the more networked of a solution they can provide, the more affordable and beneficial it will be.
BOOKMarina by BOOKTechLabs
In contrast to the shared network approach, BOOKTechLabs is emphasizing customized, client-driven solutions as the key to competing in a rapidly changing marketplace. Launched in late 2020, the BOOKMarina solution draws on their team's years of experience supporting the international travel and hospitality industries to provide marinas with what they describe as "the only interactive tailor made booking engine in the world."
Founder and CEO Chris Adams said BOOKTechLabs was responding to a distinct need in the marina market:
"Marinas were behind in booking solutions – missing out on what hotels and airlines have had for years and losing revenue. Our research showed it takes an average of eight e-mails per reservation confirmation when done manually. There are also language barriers. We saw an opportunity to create an online marina booking solution that is easy to use, gives customers a more robust online tour that clearly highlights what each marina has to offer, and gives owners more options to promote and price their unique offerings."
BOOKTech's BOOKMarina engine and mobile app extends the proven benefits of hotel and resort-booking systems to the marina industry. The software's powerful back-end is directly accessible to each marina operator/manager, providing a completely customizable solution for their facility. In addition to its berth management and slip/boat rental support, the system can be set up to automatically adjust slip rates to respond to changes in demand.
The program also creates a Guest List with custom tagging and history to support target marketing efforts that encourage repeat business, such as loyalty programs. This customer database is unique for each marina and is not accessible to other users of the program. BOOKMarina also allows owners and managers to promote vacation packages that leverage local events and attractions and include area hotels, restaurants and car services; these packages are displayed as changeable banner ads on the marina's website and can be sold like advertising to generate additional revenue. The program also has a bidding feature that allows for competitive bidding for limited-edition tourism packages, providing another option to grow revenue and keep patrons checking back in.
BOOKTech is in final negotiations with several marina operators in the US and expects to announce the first marina in the U.S. to adopt the BOOKMarina system soon – taking advantage of its ability to support and promote their combination of boat storage, service, rental, and charters. But clients in other countries are already taking advantage of the customized advantages it provides, not just in customer communication and service but in revenue generation and management.
Boatyard and MarineMax
Customized mobile solutions are also growing in other sectors of the marine industry. Lauderdale Marine Center, one of the largest recreational yacht repair and service facilities in the U.S., launched their new mobile app in February 2021. The LMC Customer Experience app was created by Boatyard, a digital platform for the boater services market that launched in 2014.
Boatyard's stated goal was to deliver "boater happiness" by making it easier for boat owners to find and contact qualified service providers via a mobile app.
Boatyard was acquired by boat and yacht retailer MarineMax Inc. last year. The acquisition was announced one month after MarineMax unveiled their new boating app developed by Boatyard – which went on to be named one of Boating Industry's Top 50 Products of 2020. Per MarineMax's news release:
With the touch of a finger, you can easily connect with a local MarineMax store and order services for your vessel such as routine maintenance, boat wash, fuel fill-up, and repair or upgrade projects. You can even access a full lineup of boats for sale and a list of upcoming classes, events, and Getaways!
The entry of major boating retailers and service providers into the custom app market is adding momentum to the marine industry's increasingly mobile future. MarineMax will also continue to operate Boatyard as an independent brand, showing how app development and support is becoming part of the diversified services offered by a wider range of marine industry companies.
Improving Marina Management
While improved customer experience and connection lies at the heart of the innovations highlighted here, mobile software is also becoming a foundational element for improved marina management, and is defining the pathways through which new marina systems will communicate with each other and with boaters and marina owners/operators. The next articles in the series will look at the high-tech changes in store for boats, navigation and docking systems, and marina infrastructure – and how this is shaping the promise and potential for Smart Marinas.
Jason Stangland is waterfront practice director and David Lantz is waterfront practice manager for SmithGroup. They can be contacted at [email protected] and [email protected]