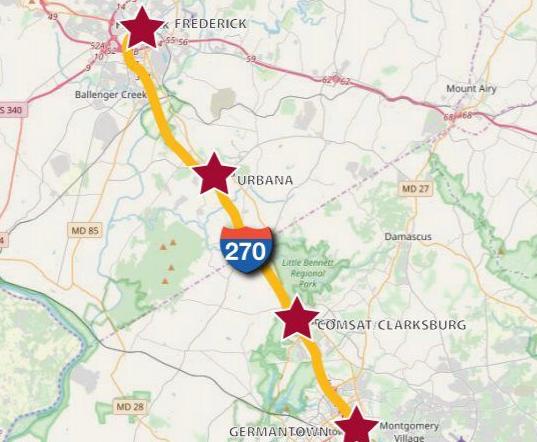 Study finds Frederick-Montgomery monorail feasible, but questions remain | Transportation
Building a monorail along Interstate 270 from Frederick to the Shady Grove Metro station is physically possible, but the impacts of the project on other transportation systems and other factors need further study, according to a new report released by the Maryland Department of Transportation.
Such a system would take at least 10,000 vehicles a day off of the region's roads — less than 1 percent of the overall single-vehicle trips predicted by 2045 — with only a small decrease of that traffic coming off major roads, the report said.
While such a system would likely draw anywhere from 34,800 to 47,800 riders a day, much of the ridership would likely come from existing transit systems such as MARC's Brunswick Line, commuter bus lines and Montgomery County's Ride On bus network, per the report. And the projected ridership depends on making sure stations have sufficient parking, pedestrian and bike connections, and connections to other transit networks.
The project is estimated to cost 3.7 billion in 2020 dollars, with a cost adjusted for inflation by 2025 of $4.4 billion.
The monorail feasibility study was developed as part of a plan to build a network of high-occupancy toll lanes along Interstate 270 and parts of I-495, which is expected to cost between $9 billion to $11 billion.
The feasibility study looked at an area of about 28 miles between Frederick and the Shady Grove Metro station in Derwood, near Gaithersburg.
The current proposal would include stations in Frederick and Urbana, as well as Clarksburg, Germantown, Metropolitan Grove and Shady Grove in Montgomery County.
The Frederick station would be located on East South Street just east of South East Street, near the MARC train station in downtown Frederick.
The Urbana station would use the park-and-ride at I-270 and Md. 80 and expand the parking area onto undeveloped land nearby.
The route would run parallel to I-270 — until it approached the I-370 interchange — then run along I-370 before turning south to connect with the Metro station at Shady Grove.
The study also looked at other monorail systems around the world, including in China, Germany, South Korea and Japan. It identified 57 operational systems, found on every continent except Antarctica, and mostly located in densely populated urban areas.
Follow Ryan Marshall on Twitter:
@RMarshallFNP.