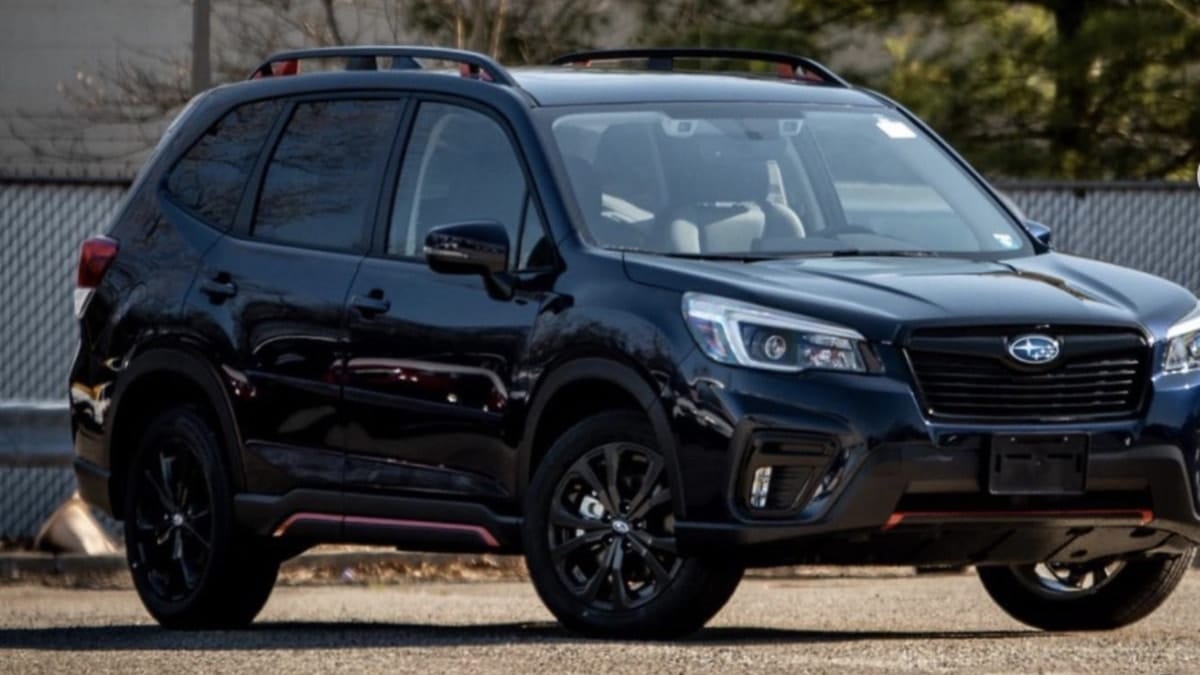 Two New SUVs And One Old Sports Car Just Launched Subaru To A Best-Ever Record
Which Subaru model is the most popular? The 2021 Subaru Forester is the brand's number one selling all-wheel-drive SUV, but the 2021 Subaru Crosstrek is the hottest model in Subaru of America's (SOA) lineup. SOA announced the Forester and Crosstrek both had their best-ever April sales, and the SUVs helped launch Subaru of America to its best-ever April.
The 2021 Forester compact SUV had 19,452 model sales in April compared with 9,431 sales the previous April, up 106.3 percent. That is notable for any model, but the Crosstrek had an even bigger month. The hot 2021 Crosstrek had 12,599 model sales in April compared with 4,489 sales the previous April, up 180.7 percent, making the compact SUV the fastest-selling model in the all-wheel-drive lineup.

photo credit: Competition Subaru
The Forester SUV still leads all models with 67,146 vehicles delivered to customers year to date, up 38.4 percent. The Crosstrek is the third best-selling SUV with 47,786 vehicles delivered to customers year to date, up 83.8 percent, the most significant increase of any model.
The sport-tuned 2021 Subaru WRX and performance-tuned WRX STI are the biggest surprises. The sports cars are the only models in the lineup yet to receive a major remodel and upgraded to the new Subaru Global Platform. And they are still setting records.
Both had best-ever April sales with 3,183 sports cars delivered to customers compared with 1,368 April 2020. That's an increase of 132.7 percent. Subaru customers have purchased 8,749 WRX and STI models year to date, compared with 5,908 last year, an increase of 48.1 percent.
Subaru will reveal the next-generation 2022 WRX this fall and the 2022 WRX STI in late 2022. But performance fans aren't waiting for the new models to get here.
What will happen this summer with the microchip shortage?
Subaru announced the plant that makes Forester and Crosstrek would stay dark because of the microchip shortage. Production shut down was April 10–27, 2021 (13 workdays: April 10, 12–16, 19–23, and 26–27). Part of the production lines resumed operations on April 21, but all production lines won't continue until May 10.
Customers looking for the Forester and Crosstrek can still find the trim and color they are looking for this spring. That could change this summer as retailers run out of the record-setting SUVs.
The 2021 Subaru Forester, 2021 Crosstrek, and 2021 WRX and STI had their best-ever April sales, and the two new SUVs and one aging sports car just launched Subaru of America to its best-ever April.
You Might Also Like: Subaru Is Hit With Another Lawsuit- Owners Say EyeSight Is Dangerous
Denis Flierl has invested over 30 years in the automotive industry in a consulting role working with every major car brand. He is an accredited member of the Rocky Mountain Automotive Press. Check out Subaru Report where he covers all of the Japanese automaker's models. More stories can be found on the Torque News Subaru page. Follow Denis on Facebook, Twitter, and Instagram.
Subaru Report – We've got you covered! Check back tomorrow for more unique, informative SUBARU news, reviews, and previews you can trust.
Leave your comments below, share the article with friends and tweet it out to your followers!
Photo credit: main image Competition Subaru