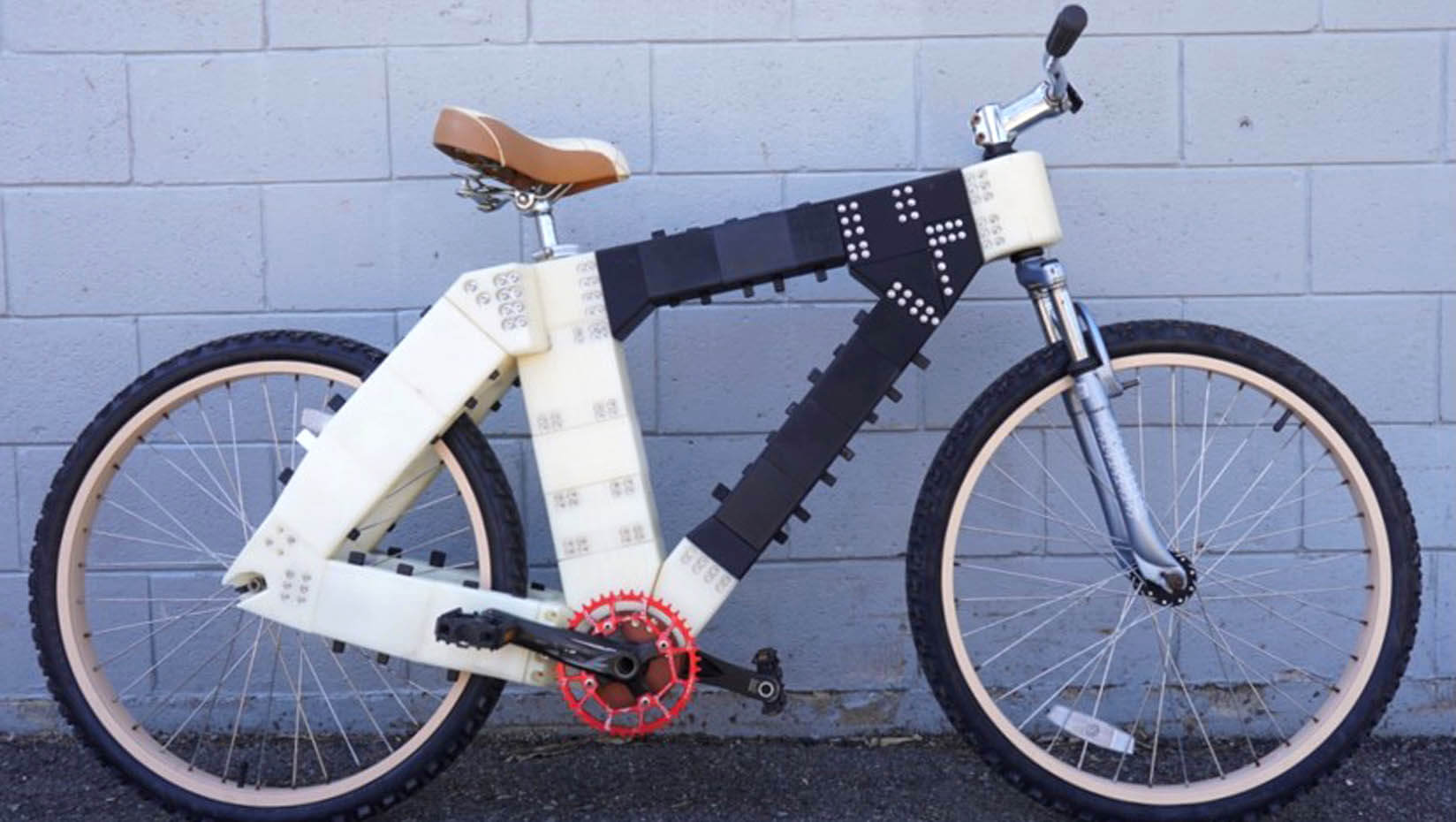 UMaine seniors create 3D-printed bicycle frame for Orono High School – UMaine News
Four University of Maine seniors created a 3D-printed bicycle frame to give to Orono High School for their Mechanical Engineering Technology (MET) capstone project. 
Orono Middle School and High School Librarian Emily Jackson Sanborn will accept the frame from the UMaine seniors and faculty at 1 p.m. on Monday, May 3 outside of the school located at 14 Goodridge Drive in Orono. COVID-19 health and safety guidance will be followed. 
MET seniors Abdullah Albutayyan, Douglas Bolstridge, Ryan Ehrenberg and Ryan McNeilly developed the polylactic acid (PLA) bicycle frame using only consumer-grade printers, which produce objects no bigger than 5.5 inches in length, width and height. The team had to assemble 85 3D-printed pieces with 151 bolts and no adhesives to create the frame, which took 764 hours. 
Brett Ellis, associate professor of mechanical engineering technology, says the endeavor required 18.4 kilograms of material. 
"I'm quite proud of our students," says Ellis. "They've come a long way, growing and maturing throughout their capstone project." 
Peter Howorth, an adjunct lecturer in mechanical engineering technology, says Jackson Sanborn, the client for the project, asked that the frame be made with a consumer-grade printer to demonstrate to high school students that they, too, could create advanced 3D-printed goods with easily accessible technology. 
The UMaine MET seniors designed each component, tested critical components, built the frame, and tested the bicycle under various loading conditions to ensure the bike could be ridden safely. Based upon his more than 30 years of manufacturing experience, Howorth says all of these tasks would be conducted in an industry setting. 
Learn more about the 3D-printed bicycle frame project on the MET website. 
"It became an excellent STEM outreach activity between the university and the school," Howorth says. "I think (the UMaine seniors) have demonstrated that they're ready for professional careers, and I think they'll have exciting ones."  
The MET program capstone tasks teams of seniors with designing, engineering and building public service projects for various clients each year. 
Ellis says 11 teams of students created a variety of products for clients this year, including low-cost projector systems for UMaine's Servant Heart Research Collaborative to give to students in Sierra Leone, a Mars Rover for the Challenger Learning Center in Bangor, and others. Learn more about the different MET capstone projects online.
"For these students to respond as well as they have during COVID (restrictions), it's been a great year," Ellis says.