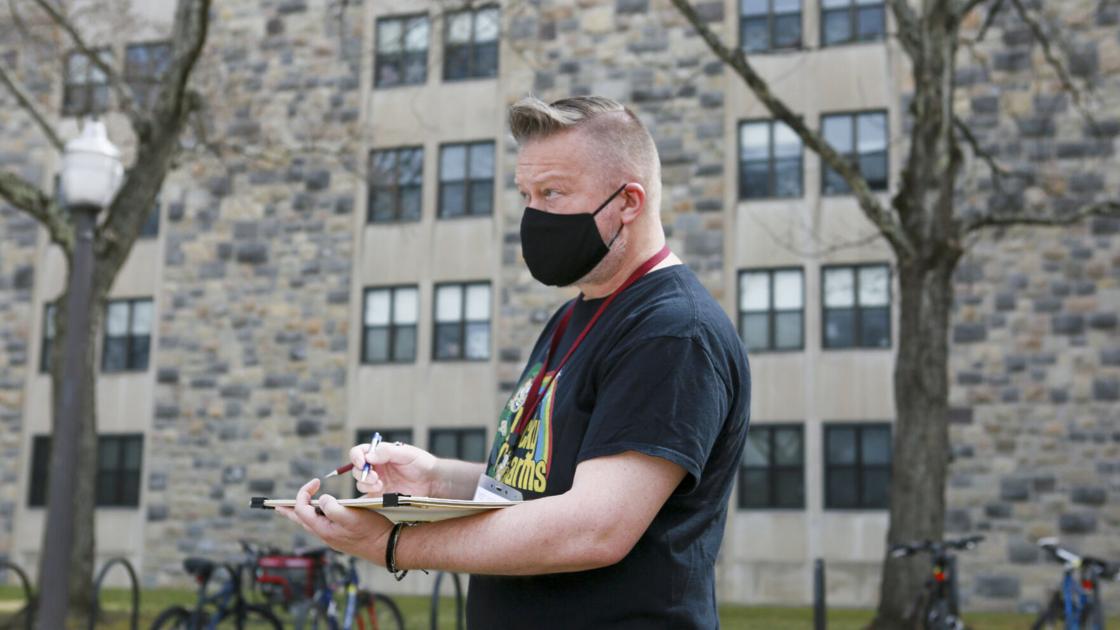 Virginia Tech's 'doodler' brings campus to life in stressful times (copy) |
"I try to get a lot of our staff and wage employees, because they're like our heroes," he said.
Before the pandemic, White would spend an hour before work every day sitting at a Starbucks in Christiansburg, where he lives, sketching customers.
"I love watching people. Just being an anthropologist," he said. "Cannot get enough of it."
On a recent Wednesday, White describes his doodling process as he sketches a skating rink put up for one of Tech's five "well-being days," this semester, devised to split up spring break. It also happens to be St. Patrick's Day, and White is wearing a "Lucky Charms" T-shirt with its overly excited leprechaun mascot.
He starts by looking for "a nice line," to give the drawing perspective, this time the edge of the skating rink. He then works foreground to background, sketching in the nearby basketball hoops then the dorms and trees in the distance. The initial sketches take him about 20 minutes. Later, at home, he'll fill in with a thicker ink pen, then paint with watercolors, another 30 to 40 minutes.
He ends his site drawings by taking a panoramic photo on his phone to use as a color reference.
"It's a snapshot of where we are," White said about documenting campus life. "When my kids get all these sketchbooks and I'm dead in the ground or whatever, they go, 'Oh, well that was that year that there were all those masks in the pandemic."